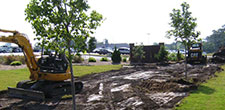 Clearing and Grading
From the start, every job is handled with the utmost care, only removing what is required for your new green space. To ensure quality, we handle each project in a manner that limits environmental impact, erosion, and sedimentation issues.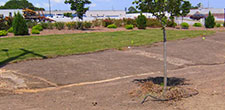 Drain Systems
Proper drainage is important to ensure the integrity of your greenspace. We install proper Capacity Drainage Systems to redirect water away from the foundation, walls and landscapes. By doing so, we are able to counter any unsightly erosion damage that could affect your curb appeal. We also install, maintain and repair Back Flow Preventers, which prevents drinking water from being contaminated with other sources because of backflow.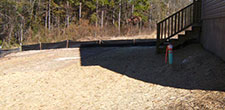 Erosion Control
Erosion control is paramount during construction. We develop a plan based on the topography of the site before any work is started. This helps limit delays. During implementation, we use the latest methods available so to remain compliant with regulations for each site.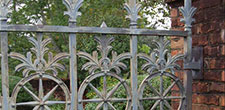 Fencing
First and foremost, you need to define the reason you want to fence your property. Privacy? Security? To define your property line? To act as a sound barrier? To keep children and pets safe? You don't need to sacrifice beauty and design for purpose. We can make a recommendation based on purpose, the personality of your property, and your budget.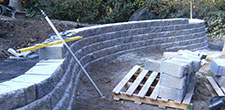 Hardscape (Bricks and Pavers)
Hardscapes use stone-hard materials to fortify and define a landscape. Whether it's a patio path, retaining wall, driveway, pool deck or edging, we represent a variety of vendors that provide the materials you need to make your hardscape come to life.
Hydro-seeding
When sod is not an option, hydro-seeding provides an immediate green ground cover. We mix the seed with a protective mulch covering and then spray it directly onto the terrain. This approach works well with golf courses and large turf areas which may be inaccessible or unsuitable for conventional methods. It also allows us to provide a quality product to customers with a limited budget.
Irrigation
Proper irrigation is essential in maintaining landscapes. Since water consumption and costs are issues, we will design and install a system that can provide maximum efficiency.
Landscape Lighting
Beauty and security come together in lighting. Let Exceed recommend, design, and install custom lighting that will not only showcase your property but also keep it secure.
Tree Removal
Unfortunately, there are times when it is necessary to remove a favorite tree. Not only will Exceed remove the tree, being as careful as possible not to disturb surrounding features, we also remove the stump to prevent any settlement problems. We can also make recommendations for replanting.
Water Features
Water features transform not only the look of a landscape, but its feel. Whether it's a waterfall or quiet pond, water adds beauty and casts a tranquil aura. Often, it's best to customize water features such as fountains, stream beds, ponds and natural waterfalls. We design each feature to be low-maintenance.